Model NO.: HQPN

Application: Water Pipe

Customized: Non-Customized

Certification: CQC, PSE, CSA

Warranty: 1 Year

Material Pipes: Seamless/Seam

Wall Thickness: Sch40, Sch80

Standard: ASTM, BS, DIN

Length: 3/4"-24"

Trademark: HQ

Transport Package: Packed in Carton, on Pallets

Specification: 1/8" to 8"

Origin: China

HS Code: 7307990000

Model NO.: HQPN

Application: Water Pipe

Customized: Non-Customized

Certification: CQC, PSE, CSA

Warranty: 1 Year

Material Pipes: Seamless/Seam

Wall Thickness: Sch40, Sch80

Standard: ASTM, BS, DIN

Length: 3/4"-24"

Trademark: HQ

Transport Package: Packed in Carton, on Pallets

Specification: 1/8" to 8"

Origin: China

HS Code: 7307990000

Steel Nipples
Cabon Steel and Stainless Steel
Black and Galvanized
Close Nipple, Short Nipple, Shoulder nipple, Long Nipple, Running Nipple, Barrel Nipple etc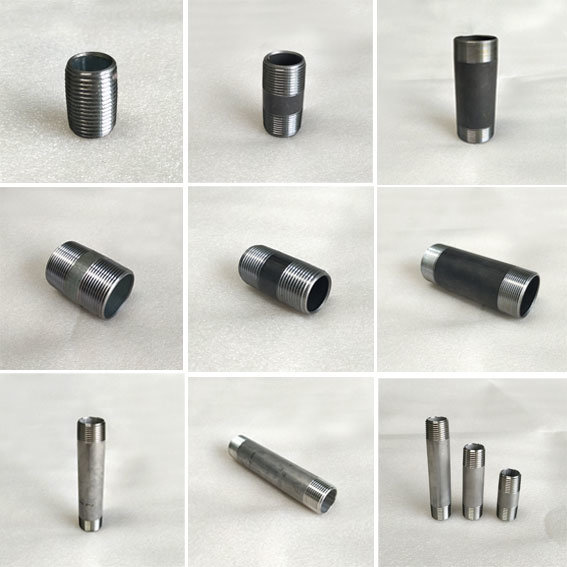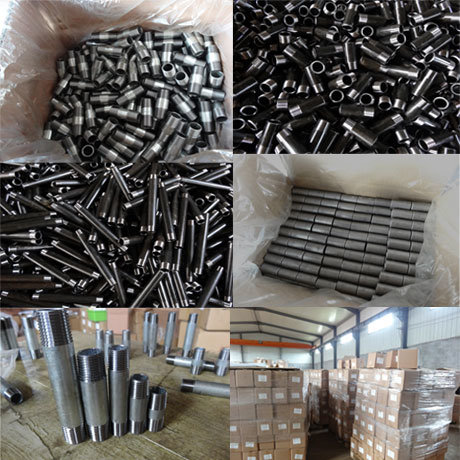 Product Details:

Type: Close Nipple, Short Nipple, Shoulder nipple, Long Nipple, Running Nipple, Barrel Nipple etc
Type of pipe: Welded or Seamless pipe
Size: 1/8" to 8"
Length: 3/4"-24"; 19mm-500mm; Or as per customer's request
Thickness: SCH40, SCH80, SCH160; CLASS A, CLASS B, CLASS C
Material: Carbon steel; Stainless steel: 304/304L/316/316L/321
Standard:
American Standard: ASTM A733 / PIPE: ASTM A53 / ASTM A106 / THREADS: ANSI B1.20.1
British Standard: BS EN10241 / PIPE: BS1387 / THREADS: ISO 7/1
DIN Standard: DIN2982 / PIPE: DIN2440 / THREADS: DIN2999
Surface treatment: Black, Hot galvanized, Electro galvanized
Packing: Packed in cartons, then on pallet
Min Order Quantity: According to customer's requirement
Delivery Time: 25 days after order conformed
Payment: By T/T or L/C
Applications range:1)Â Petroleum, chemical industry, water conversancy, electric power, Natural gas, Coal gas, Water power and other pipeline projects.
2) Industrial pipeline system on shipping, mine, oil field, textile, powder plant etc 
3) Pipeline system on subway station, railway station, airport, seaport, bridge etc

                               

Steel Nipples
Cabon Steel and Stainless Steel
Black and Galvanized
Close Nipple, Short Nipple, Shoulder nipple, Long Nipple, Running Nipple, Barrel Nipple etc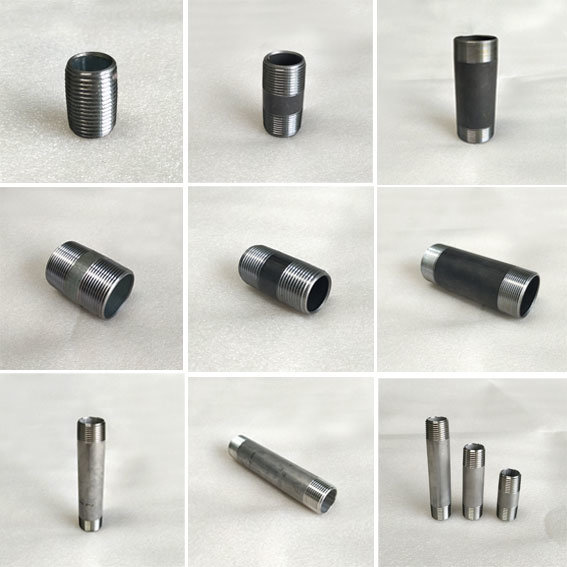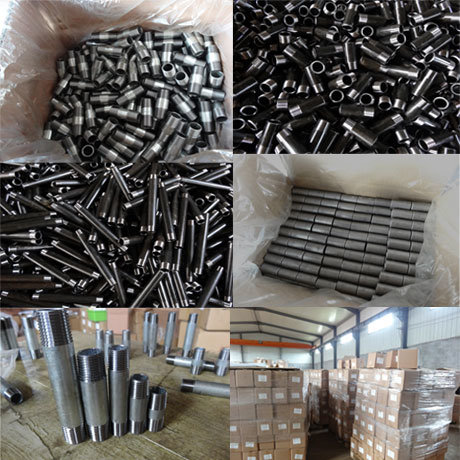 Product Details:

Type: Close Nipple, Short Nipple, Shoulder nipple, Long Nipple, Running Nipple, Barrel Nipple etc
Type of pipe: Welded or Seamless pipe
Size: 1/8" to 8"
Length: 3/4"-24"; 19mm-500mm; Or as per customer's request
Thickness: SCH40, SCH80, SCH160; CLASS A, CLASS B, CLASS C
Material: Carbon steel; Stainless steel: 304/304L/316/316L/321
Standard:
American Standard: ASTM A733 / PIPE: ASTM A53 / ASTM A106 / THREADS: ANSI B1.20.1
British Standard: BS EN10241 / PIPE: BS1387 / THREADS: ISO 7/1
DIN Standard: DIN2982 / PIPE: DIN2440 / THREADS: DIN2999
Surface treatment: Black, Hot galvanized, Electro galvanized
Packing: Packed in cartons, then on pallet
Min Order Quantity: According to customer's requirement
Delivery Time: 25 days after order conformed
Payment: By T/T or L/C
Applications range:1)Â Petroleum, chemical industry, water conversancy, electric power, Natural gas, Coal gas, Water power and other pipeline projects.
2) Industrial pipeline system on shipping, mine, oil field, textile, powder plant etc 
3) Pipeline system on subway station, railway station, airport, seaport, bridge etc

                               

PVC Solid Color Edge Banding Series include that: All kinds of single color, also single color with emboss surface, smooth surface, high gloss surface or super matt surface. It include thin series solid edge banding, and extrude solid colors.


We mainly supply customize color and size as per request. Size ranges 0.35-3.0mm thick and 12-620mm width. We adopt high quality PVC resin, Germany exported ink and UV. Strict quality control system to keep the quality of PVC edge banding.
Pvc Solid Color Edge Banding,Solid Color Of Pvc Edge Banding,Solid Color Flexible Pvc Edge Banding,Wood Grain Solid Color Pvc Edge Banding

Sinowolf Plastic Dekor Co., Ltd , https://www.sinowolfdekor.com