In the northern part of China, floor heating is one of the ways to warm in the cold winter. Although the warmth of the floor heating is comfortable, the requirements for laying are strict. Do you know if the floor heating installation in your home is standardized? Do you know that every detail of the warm installation can not be ignored? Next, let's take a look at the installation steps of the floor heating.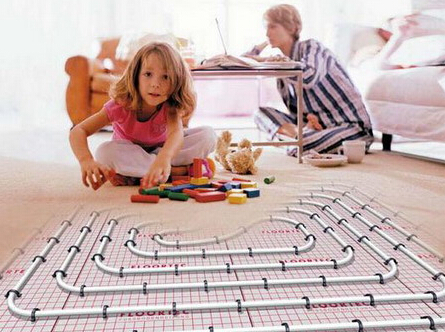 1. Before installing the floor heating, the leveling layer of the floor should be inspected first.


2. Use four expansion bolts to level the manifold on the wall.


Third, the 10mm corner insulation board is glued along the wall with latex, pay attention to the paste should be flat, the lap joint should be strict.


4. Laying the insulation layer on the leveling layer, laying the aluminum foil on the floor heating insulation layer or pasting a layer of composite aluminum-plated polyester film with coordinate grid lines on the floor heating layer. The insulation layer should be laid flat.


5. Lay a 2mm steel wire mesh on aluminum foil paper with a spacing of 100×100mm and a specification of 2m×1m. To ensure the tightness of the laying, the steel mesh should be bundled with a cable tie. The warped parts should be steel. The nails are fixed on the floor. For the room with the waterproof layer, do not nail when fixing the wire mesh.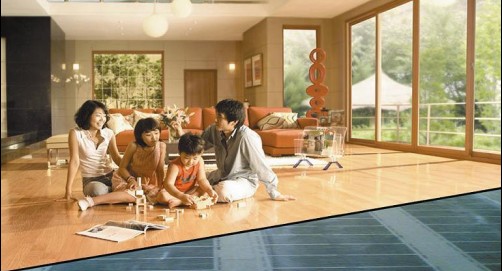 6. According to the spacing requirement calculated by the heat load, the floor heating pipe shall be fixed on the benzene board by the floor heating pipe card, and the spacing of the fixing points shall not be more than 500 mm, and the fixing ends shall be fixed at both ends and the midpoint of the curved pipe section larger than 90°. The bending radius of the floor heating pipe may not be less than 8 times the outer diameter of the pipe.


7. After checking whether the heating pipe is damaged and the pipe spacing meets the requirements, the hydrostatic test can be carried out. Injecting clean water from the water injection and exhaust valve, the test pressure is generally 1.5-2 times of the working pressure, but not less than 0.6Mpa. The pressure drop within 1 hour of the voltage regulation is not more than 0.05Mpa, and it is qualified if there is no leakage.


8. If the floor is more than 8m long, the expansion joint shall be provided with a size of 5-8mm, and the height shall be level with the fine stone concrete cushion. When the plastic pipe passes through the expansion joint, a flexible casing with a length of not less than 400 mm is to be provided. In the dense place of the water separator and the heating pipe, the bellows should be protected by a bellows of not less than 1000 mm. The expansion joint should be filled with an elastic expansion paste.


9. After the acceptance of the floor heating pipe is qualified, the fine stone concrete shall be backfilled, and the heating pipe shall maintain a pressure of not less than 0.4Mpa.


10. The water inlet of the floor heating water separator should be equipped with a filter to prevent foreign matter from entering the floor pipe loop.


Eleven, smear cement backfill to level, do the ground.


12. After connecting the main pipeline and the sub-catchment, the system shall be tested. The test pressure is 0.2 MPa of the system apex working pressure, and not less than 0.6 MPa. If the pressure drop is not more than 0.02 MPa in 20 minutes and the working pressure is reduced, no leakage is acceptable.


Every step of the floor heating installation is very important, directly related to the future use effect and the service life of the floor heating. Therefore, the owners should look for a professional floor heating installation company to ensure the quality and effectiveness of the installation.

External wall insulation decorative integration board is the external wall insulation system and exterior decoration system combined into one. It can effectively improve the user's return on investment, improve project quality. Reduce energy consumption, greatly shorten the external wall insulation and decoration project duration.
insulation Wall board decorative by the insulation layer, inorganic resin board, strong composite plastic, decorative coating composition, fire rating in full compliance with national fire inspection and acceptance standards.
External wall Insulation Decorative Board scope of application
Whether in the cold of the north, or the hot south, thermal insulation decorative panels integration effect can meet the national mandatory energy-saving regulations. The selected materials with high weather resistance, able to resist acid rain, salt spray erosion.
Exterior Wall Insulation Board decorative integration board for the new and old concrete, steel, brick wall, hollow brick wall, brick wall pressure block different, suitable for all types of wall construction and installation. At the same time, also suitable for the transformation of old houses. It has excellent outdoor weatherability, color retention, alkali resistance, water resistance, scrub resistance, cracking temperature change, waterproof, wear-resistant, collision-resistant, and durable tough film, adhesion, mold The effect is excellent.
Three external insulation system briefing
First, EPS board insulation coating finishes system
introduction:
EPS board thin plaster Exterior Insulation Board system is composed of dry powder, insulation board, alkali-proof fiberglass mesh cloth and finishes layer wall insulation and decorative features in one of the new wall insulation structure system, EPS board Thin plaster insulation system is the most common at home and abroad, the most technologically mature external insulation system. The system uses EPS board paste exterior insulation, with the overall insulation effect, thermal conductivity is small, does not destroy the insulation layer, cut off the hot and cold bridges, there is no condensation point, good durability and so on.
Application:
The system is suitable for the construction of new building exterior wall thermal insulation finishing projects with concrete walls, lightweight filling masonry, clay bricks and other materials as well as energy-saving renovation of existing buildings.
Second, XPS board insulation coating finishes system
introduction:
XPS board insulation wall panel system is composed of dry powder, interface agent, insulation board, alkali-proof fiberglass mesh cloth and finishes layer wall insulation and decorative features in one of the new wall insulation structure system, XPS board Exterior insulation has the overall effect of thermal insulation, thermal conductivity is small, cut off the generation of hot and cold bridges, there is no condensation point, good durability and so on. At the same time, the light weight of such systems can effectively reduce the load on the load-bearing walls outside the building and the foundation load, reducing the basic handling costs of seismic fortification. Such systems can be vigorously promoted and popularized building energy-saving insulation system.
Application:
The system is suitable for the construction of new building exterior wall thermal insulation finishing projects with concrete walls, lightweight filling masonry, clay bricks and other materials as well as energy-saving renovation of existing buildings.
Third, plastic powder polystyrene insulation coating system
introduction:
Adhesive polystyrene particles insulation coating veneer system is composed of premixed dry-mixed mortar as the main binder, adding appropriate anti-cracking fibers and a variety of additives to polystyrene foam particles as lightweight aggregate, the proportion of configuration, The use of on-site molding plastering process, the material is easy and easy to operate, the construction efficiency is high, the overall performance of the material after molding is good. Avoid block material insulation, easy to crack joints, the construction process is simple. The system insulation layer and the main wall of the close bonding between, no cavity, hollowing phenomenon, effectively solve the wall insulation, heat insulation, crack resistance, fire resistance, water repellency, weather resistance, ventilation and other issues.
Application:
The system is suitable for the construction of new building insulation wall panels external finishing projects with concrete walls, lightweight filling masonry, clay bricks and other materials as well as energy-saving renovation of existing buildings.


Exterior Insulation Board

Exterior Insulation Board,External Wall Insulation Boards,Exterior Wall Insulation Board,Internal Wall Insulation Board

UMS New Materials Industry Co.,LTD , https://www.ums-factory.com